PROMIS Prosthetics Services
PROMIS Brings More Than 40 Years of Prosthetic Experience And The Latest In Cutting-Edge Technology To Northern New Hampshire And Vermont
We Specialize in Custom Prosthetic Devices and Applications to Suit Each Individual Patient's Need, Function Level, And Desired Quality Of Life
Upper Extremity Prosthetic Devices For All Levels
Above Knee And Hip Disarticulation Prostheses
Below Knee Prosthetic Devices
Special Computer Controlled Prosthesis (C-Leg)
Mastectomy Breast Forms And Bras
New Advances in Technology and Materials Allow For New Heights in Patient Outcomes
The Latest in Computerized Technology
Right Here In The North Country!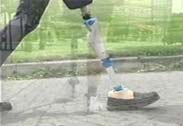 The Otto Bock C-Leg: A Fully Programmable Computer-Controlled Prosthetic Knee That Mimics The Natural Gait Of the Patient
Immediate Post Operative Prosthesis Services
Specially Designed Prostheses allow immediate fit - right in the operating room. The Therapeutic Process Can Begin The Day After Surgery!
PROMIS Provides A Full Range of Pediatric Orthotic and Prosthetic Services Custom Designed For Each Stage of Development
PROMIS' Pledge to total patient satisfaction is an ongoing relationship of follow up care including: Repair, Replacement and Supplies
Orthotic & Prosthetic Fabrication & Repair Lab On-Site
Whether An Orthotic or Prosthetic Device, PROMIS Will Work With The Patient and his/her health care professional to keep the device fitting and functioning correctly for the duration of need
About Us | Services | Locations | News/Research | Contact PROMIS | Home